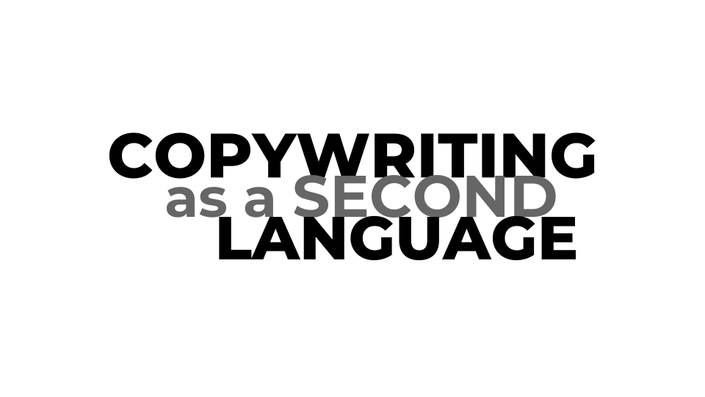 COPYWRITING AS A SECOND LANGUAGE
Stop being ignored by your audience and start interacting so you can make more sales and help more people with your solution to their problems.
Watch Promo
Enroll in Course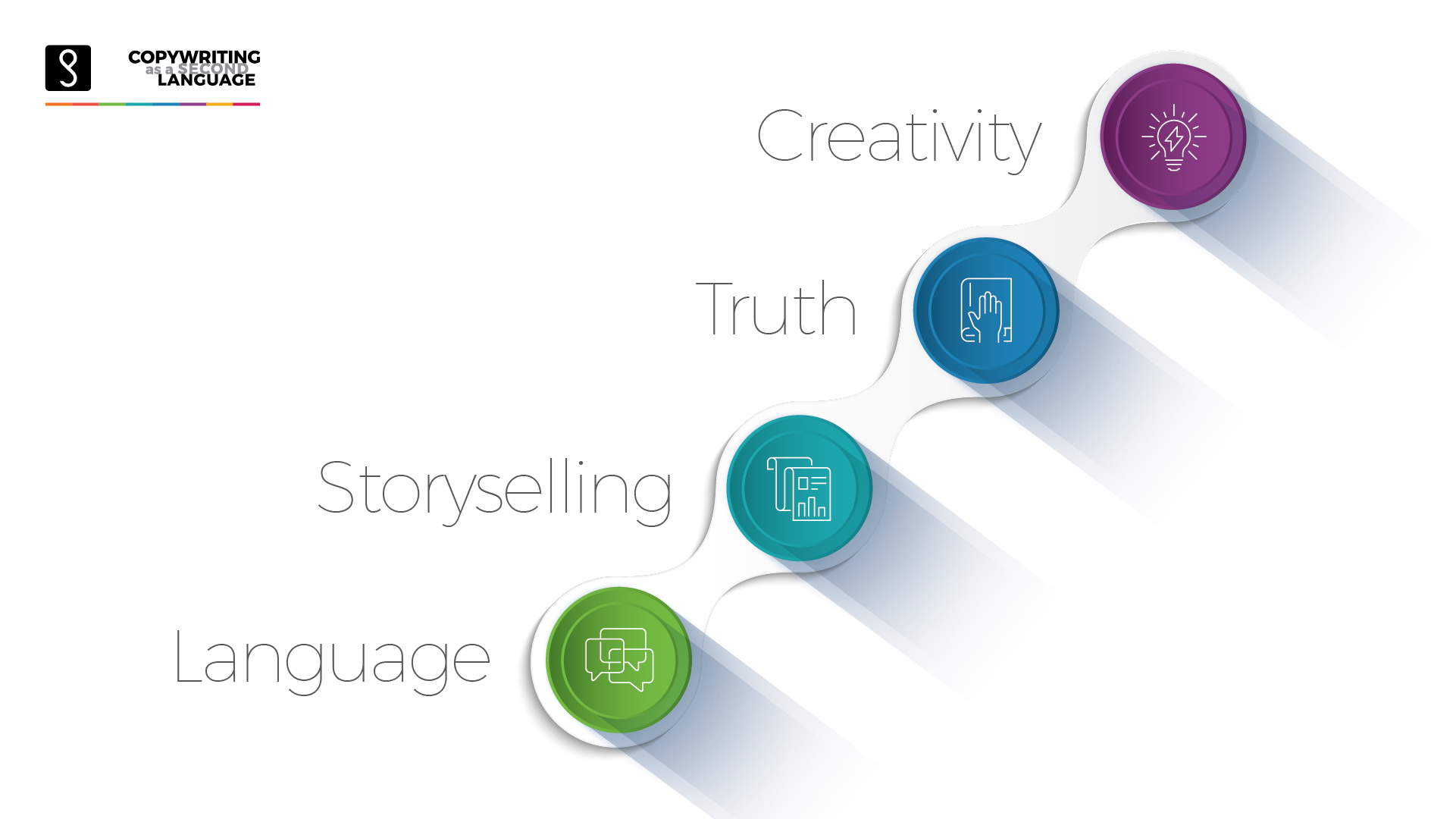 Module 1: Language
In this module, you'll learn to see copywriting as a language. You will understand how copywriters are able to translate any message so the customer feels like finally, someone spoke their language. You will see the foundation of copywriting in 3 pillars: the ABC of Copywriting. You will also be able to find your voice so you can be recognized by your audience in the noise.
1.1 How to learn
We kick off the course by looking at how we learn anything. This video will introduce the idea of Copywriting as a Second Language, and also give you tools to take advantage of the whole program, so you can learn in a much better way.

1.2 Cracking the code
The idea of Copywriting as a Second language also suggests there's a first language. In this lesson, we will look at language and see why it will be so much easier to communicate anything to anyone, once we understand this concept.

1.3 ABC of Copywriting
We will dig a little deeper here, and understand the foundation of this new language; the 3 pillars that will make our communication strong and with this in place, everything else comes naturally. We will break this lesson into 3 small videos so you can take time to go through the exercises and move on to the final lesson of this module feeling your progress.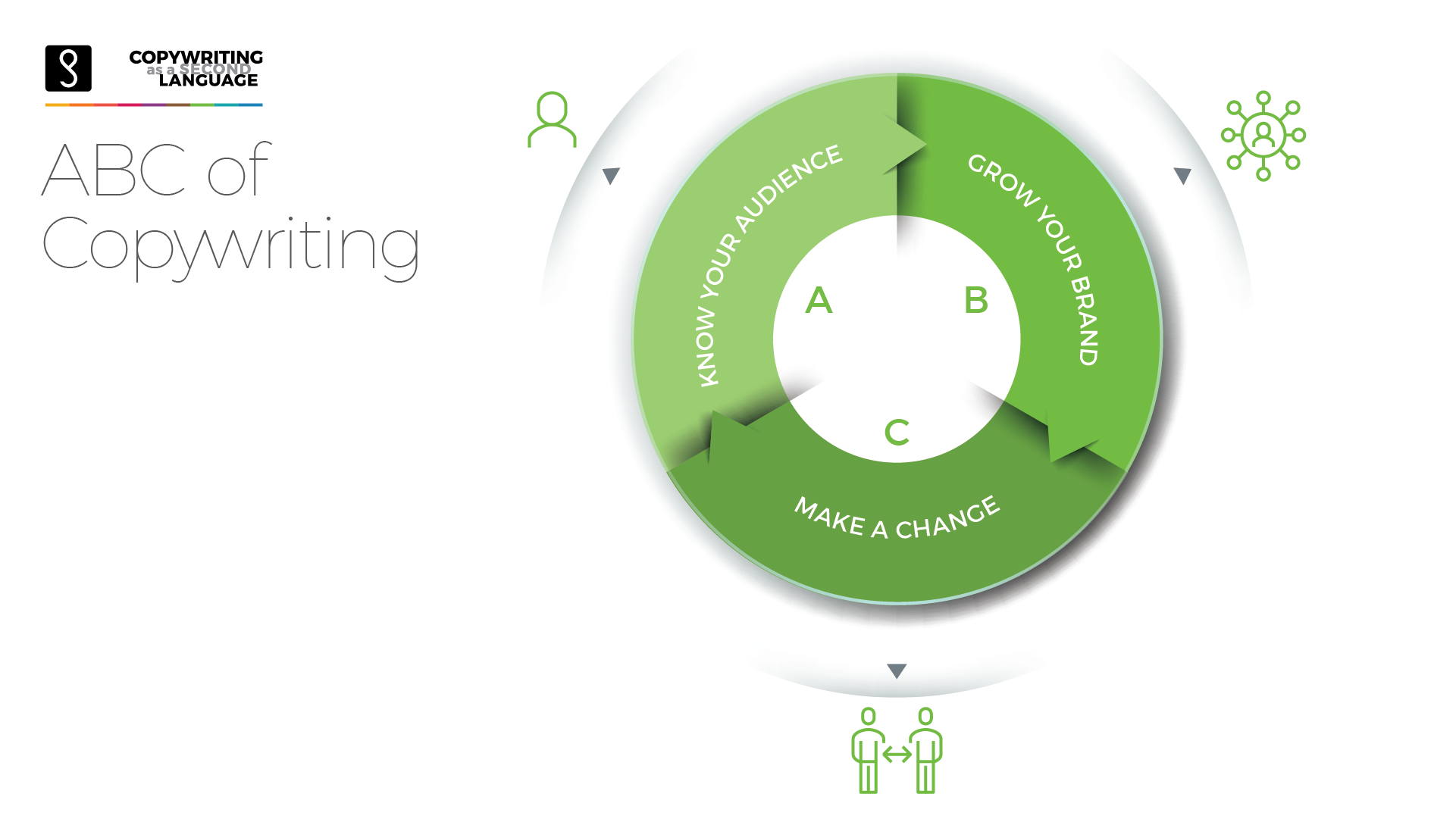 1.4 Your Voice
Even though we all speak the same language, we recognize each other by our own unique voices. Not only that but in this lesson, we will understand the importance of crafting your brand's voice and working on your tone. This alone should make your job of communicating your message to your customers easier and take your brand to the next level.

Module 2: Storyselling

In this module, you'll learn the importance of story in advertising and communication in general. You will probably never see movies and series the same way, but you will also have a much clear path to speaking to your customer and make them feel like no other brand understands them like you do. You will know who you are in the story you tell and I'll share a secret that helped me answer any question a customer has with a solution of a brand.
2.1 Copywriting is the language of story
If copywriting is a language, as you will see on Module 1, in this lesson we are going to go further to explore the structure of storytelling and see why we should copywriting is the language of story. You will have the clarity to use your voice and create messages in any size and any media.

2.2 Your brand has a story
Before you start selling with stories, we need to define your brand's meta-story. In this lesson, you will understand how to tell your story, and once you do, that story will help you sell your product and service and create infinite stories that help your brand to be remembered, admired and shared.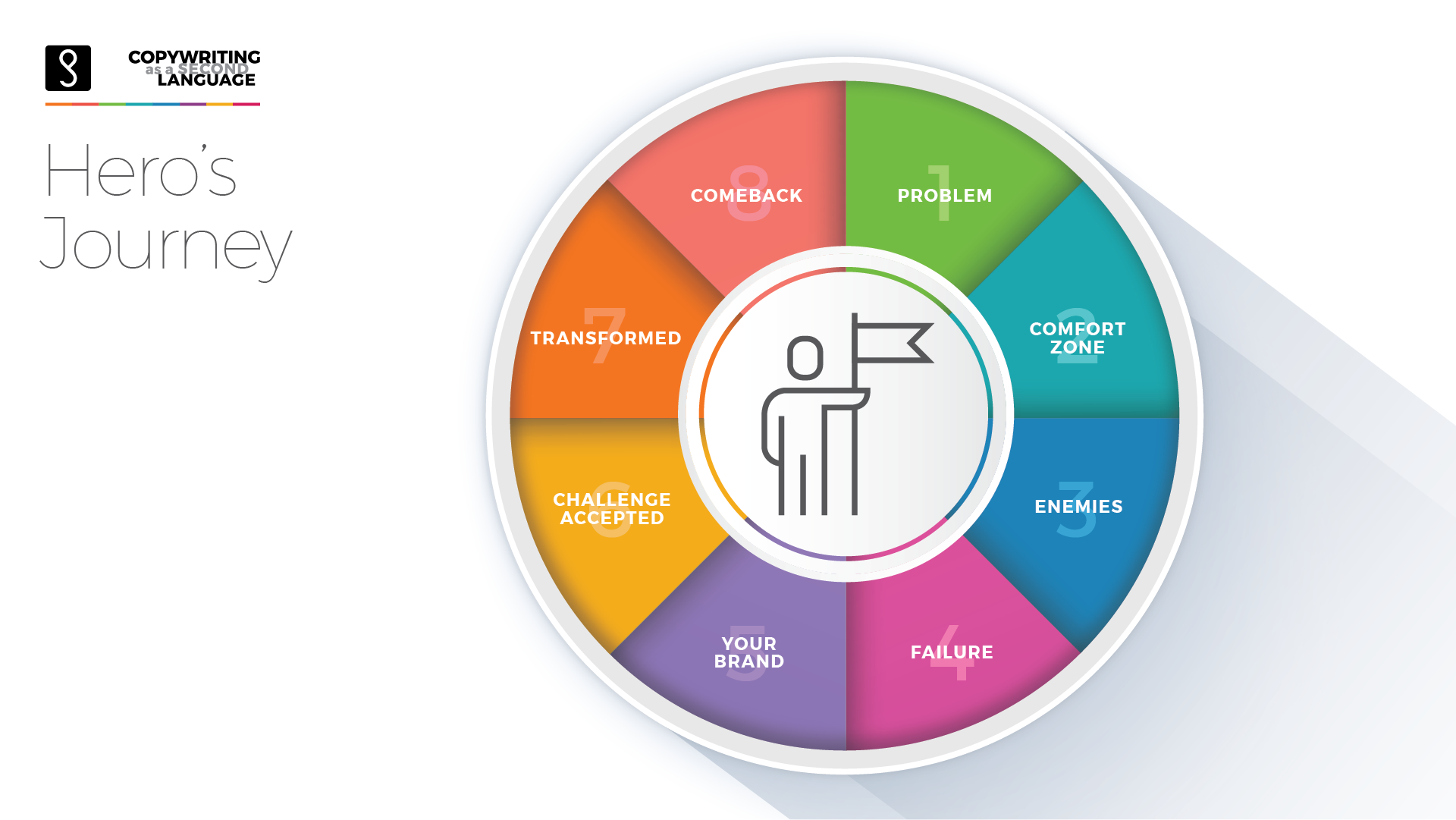 2.3 Your character
It's great to know you have a story to tell. But many brands confuse their role in the story they tell. This is one of the most important lessons on Copywriting and once you see who your brand is in the stories you tell, the connections you make with your customers will never be the same. Or should I say, will always be the best.
2.4 The Elephant
As I mentioned before, there's a secret I use to communicate any message using stories in a way the consumer will feel like you are answering their questions. In this lesson, I will share that secret with you, and you will be able to connect the dots between your customers' questions and your unique solution.


Module 3: Truth
In this module, will see that just like Copywriting is the language of Story, it is also the language of truth. Because many people confuse storytelling with lies. After watching these lessons and taking time to go through the exercises, you will be able to always tell the truth and also spot a liar. You won't be surprised when you find out your customers are the biggest liars out there.
3.1 Tell and sell stories, not lies
Advertising got a bad reputation because of how some brands decided to risk the relationship with their customers for the short term reward. Yes, lies will sell and many times sell faster than truth. But I'll share with you the truth about lying to your customers.
3.2 How to find your truth
In this lesson, you will find reasons to always sell with the truth and I'll help you find your brand's core truth, so even when you're tempted to lie, you will know what to say. I will share how I help brands find their true message and avoid failing in the eyes of your customers.

3.3 The body language of your brand
Did you know your brand had a body? In this lesson, I will show you what a beautiful body your brand has, and how to make sure it helps reinforce the message you speak. Many brands have learned this important lesson and have been able to avoid contradictions that confuse their customers and make them lose sales.
3.4 Your customer's lies
It may be hard for a brand to admit they lie, and we're going to do everything we can to always tell the truth. But your customers, well…let me tell you; they lie more than you think. In this lesson, we are going to talk about those lies and what we should do about them.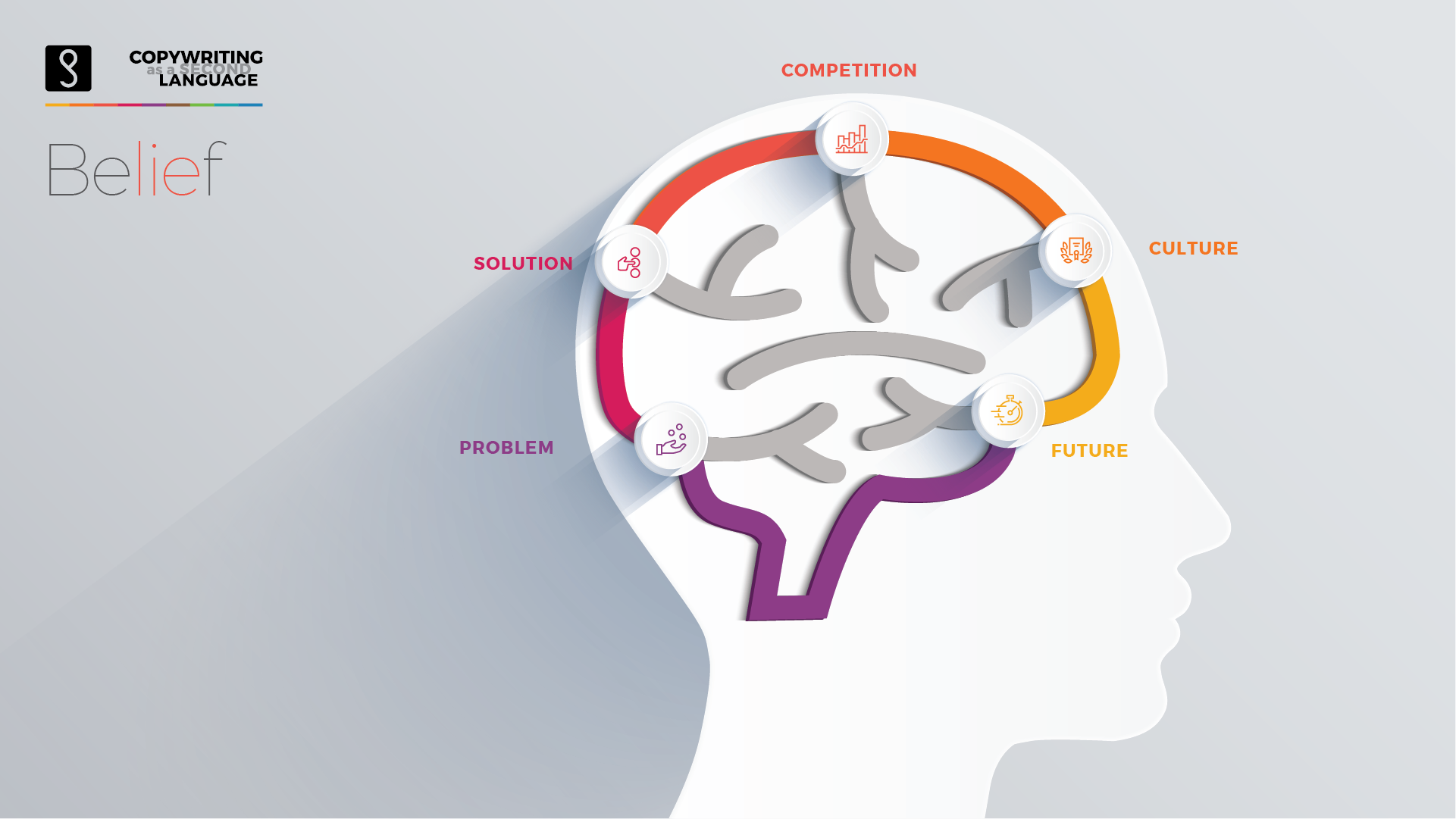 Module 4: Creativity
It wouldn't be Copywriting if wasn't for creativity. But this module had to come after the 3 previous ones, because as you will see, clarity needs to come first. We needed to find your voice, define your story and find your truth, to make sure you are yourself. In this module you will see that creativity is about being different by being who you are. You will also learn that it's a team sports, and one that really makes you sweat. But most importantly, I will teach why having the right question is better than the right answer.

4.1 Be different by being the same
We've heard two different messages that seem to contradict all our lives; one that says we should change, to be creative and discover new ways to be. Then we also heard we should just be ourselves. When learning a new language, we want to sound like the people who speak that language, so we can be understood, but our accent many times gives it away that we are not native speakers. In this lesson, we are going to see how your brand can be different without trying to be something else, and how you should embrace your brand's accent. Because being creative is the opposite of copying someone else.

4.2 Inspiration and Perspiration
Being creative is not an easy job, it's also not a matter of talent alone. In this lesson, we are going to talk about the importance of inspiration, the difference of being inspired by and copying. We will discuss where to get inspiration from and why that's just a starting point. Make sure to wear deodorant because we are going to sweat as we work hard to create your message.

4.3 Question the Answer
There's no better way to create something new than to question what already exists and how things are done. In this lesson, you will learn 3 simple questions you should always ask in your business and if you have always tried to find the answer to how to be creative, I'll help you answer with a better question.
4.4 Fluent
The whole point of learning copywriting as a second a second language is to be fluent. This is the final lesson and by the time you get here, having gone through each lesson and exercises, you will be able to speak, read, write and even dream in copywriting. I can't wait to learn about your brand and see the results you will have after taking this course.
Your Instructor

JP is a copywriter and creative director in advertising with over 20 years of experience working for brands all over the world. In the past three years, he has focused on helping startups and small businesses perfect their true message to their customers. JP is also the Founder of SOM, a music platform for advertising that will be launched in 2019.
Course Curriculum
MODULE 1 - LANGUAGE
Available in days
days after you enroll
MODULE 2 - STORYSELLING
Available in days
days after you enroll
MODULE 3 - TRUTH
Available in days
days after you enroll
Frequently Asked Questions
When does the course start and finish?
The course starts now and ends when you decide to finish it! It is a completely self-paced online course - and even after you're done watching the videos and taking the exercises, you have access to review lessons and redo the exercises, if you feel you need to.
How long do I have access to the course?
How does lifetime access sound? After enrolling, you have unlimited access to this course for as long as you like - across any and all devices you own. Plus, when new editions and content come, you will have access to them as well.
What if I am unhappy with the course?
We would never want you to be unhappy! If you are unsatisfied with your purchase, contact us in the first 14 days and let us know what the issue is, and if we can't help you get passed that problem, and you've actually done the course and taken the time to follow the steps, we will give you a full refund.
Do you offer more ways to help me with my business?
Yes, of course. This course is what I believe will set you free to create your own ads and to communicate with your audience in a new and unique way. What you will learn here gives you freedom to create your content and confidence to speak your customer's language. But sometimes even I need help from other copywriters and we should never feel like we know it all. So please, feel free to contact me and let me know what challenges you are facing with your business and together we will find a way to thrive. Go to the page WORK WITH ME on my website and book your discovery call.